Overview
Back in the halcyon days of 1994, we saw the first Recreational Active Vehicle with 4 wheel drive roll off Toyota's manufacturing lines. Realising this was a bit of a mouthful, this new kind of car was branded the RAV4. It quickly became a leader in the burgeoning world of SUVs. And, though the RAV4 was never the most popular SUV on Irish roads, it has remained a global top seller. Perhaps this 5th generation RAV4 will make more of an impact in the Irish marketplace.
Pros
Updated design looks great.
Very comfortable on longer journeys.
Spacious, well thought out interior.
Impressive range of safety features as standard.
Cons
The lack of a diesel option may put off some Irish
Lack of Apple CarPlay and Android Auto is a bit of
Exterior
The first RAV4 was released in 1994, and thankfully, though everything else from the 90s seems to be back in fashion with the kids these days, Toyota have decided not to return to the original stylings with this most recent facelift. Instead, they've injected quite a bit of modern character into the new look. In keeping, it has to be said with much of the new design work across the Toyota range.


Apart from the new lines and angles, the main difference between this and the last generation is the height. The ride height has been raised and the roof height lowered. This has definitely changed the look. It has the added effect of making the wheel arches much higher than before. Even with the 18 inch alloy wheels, there's quite a bit of clearance between the tyre and the wheel arch.


Interior
The overall build quality of the interior is good. The dashboard and many of the surfaces are constructed from a nice, dense material. There are some bits of scratchy plastic dotted about. But, the parts you'll be coming into contact with most feel well made. The door handles and control knobs all have a nice-feeling soft rubber, for example.

The new RAV4's longer wheelbase means that overall, there's more space inside. Probably one of the main reasons for choosing to look at an SUV as a family car in the first place. You can comfortably fit three adults in the rear seats. Even the middle passenger will have enough leg room as there isn't a central transmission hump to straddle.


For those with young families, it's good to note that each of the outer rear seats has isofix points. For slightly older, young families it's especially good to note that there are twin USB charging ports in the rear. No more arguments about which of them gets to charge their phone!


When it comes to transporting things rather than people, you'll be able to pack a fair bit in. The boot has almost 80 extra litres on its older sibling, 580 litres in total. There isn't a load lip meaning you can easily slide bulkier objects in.


Performance
The market has become a lot more crowded since the RAV4 originally launched. And, perhaps in an effort to stand out from the competition, Toyota are not offering any diesel options with this new generation. Instead, we have a Petrol-Hybrid. From every trim level above the entry-level "Aura", you can choose front-wheel or all wheel drive, automatic CVT transmission in conjunction with a 2.5 litre petrol engine and electric motor combo.

In terms of pure performance, there isn't an awful lot between the front and all wheel drive options. 4 hp to be precise. The main benefit of the AWD version will be for the more rural driver. The all-wheel drive has a separate electric motor for the rear axle meaning you'll have much better control on slopes or in slippery conditions.
Reliability
Toyota are renowned for the reliability of their cars. Previous generations of RAV4s are still running smoothly and there haven't been any major concerns with design flaws over the years. In fact, in almost every survey of driver satisfaction, Toyotas come out close to the top.
Running Costs
The RAV4 is a hybrid, what Toyota are calling a self charging hybrid. Now, this shouldn't be confused with a plug-in hybrid. You don't leave this car attached to the mains overnight. All of the battery charging and recharging comes from the energy generated by braking and cruising. The knock on effect is that shorter hop drivers won't really notice the same levels of fuel economy.


Looking at running costs we don't have to factor in the cost of installing a charge point or leaving the plug on overnight. What we do have to look at is how much benefit does the hybrid system bring. How much does it stretch that petrol out?


With a 55 litre fuel tank, filling the RAV4 at the pumps will set you back around €80 at today's average petrol prices.


The WLTP figures released for this car have a combined mpg of between 50.4 and 47.8. What this means is you'll be able to drive around 600 miles on a full tank.


Its Co2 emissions place the new RAV4 into the lowest road tax bracket, meaning you'll be parting with €120 annually.


Handling
The addition of all the hybrid technology doesn't exactly make this a light car, and it feels quite heavy to drive. You probably won't be expecting a crisp, sports car like experience with an SUV anyway, but the RAV4 is particularly un-sportscar like.
Where this car is happiest is at a cruise. The suspension is very soft making for an extremely comfortable ride.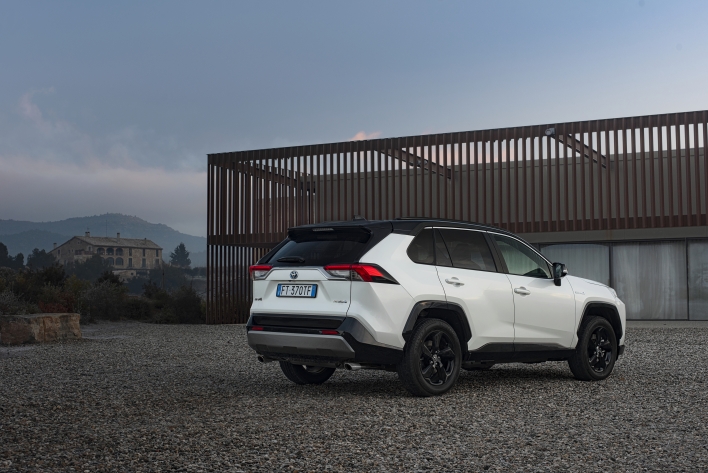 Safety
Euro NCAP have finished their tests of the 2019 model RAV4s and it's come back with pretty glowing scores. They awarded the newest generation the full 5 stars after it scored highly across the board. Tests of occupant safety and the safety of other road users all came back with good results.


All trim levels come with a range of safety features and driver assists adding up to a pretty impressive package. Everything from road sign recognition, cyclist and pedestrian detection, blind spot monitors, lane assistance, speed limiter, driver attention alert, all come as standard.


Summary
Exterior

90%
Interior

80%
Performance

80%
Reliability

100%
Running Costs

100%
Handling

80%
Safety

100%
The new RAV4 hybrid looks great, offers a good mpg, and delivers on the promise of an SUV to be roomy inside. It will most likely appeal to more rural families as the real benefits of this car will be derived from longer journeys. The lack of a diesel option may put some people off, but the lower road tax should appeal.