Overview
When electric cars first hit the road in any meaningful manner more than ten years ago, most Irish drivers would have put them in the bracket of rather dull and conservative. Since then the mainstream manufacturers, along with electric specialists such as Tesla, have transformed this view with some dynamic and exciting designs that are also big on performance and driveability. With the Audi e-tron GT, the premium German car maker has taken this to another level with an elegant and futuristic design that drives as good as it looks.


Think about this car and you can almost ignore the e-tron element of the name, which is Audi-speak for electric, and concentrate on the GT element. This really is a true Grand Tourer, a high performance sports coupé that just happens to be powered by electric motors.
Pros
Great to look at.
Packed with advanced Audi technology
Surprisingly practical
All the power and torque you could ever need
Good charging and range
Superb handling
Cons
Interior a little lacking of wow factor
Exterior
Head of Audi Design, Marc Lichte, has described the e-tron GT as the most beautiful car he has ever designed and indeed the exterior is quite stunning. It manages to combine elegance with a contemporary style and as a large car it carries its proportions well, looking great no matter what angle it is viewed from. There is a hint of the R8 in the way the car sits low on the road and plenty of understated Audi DNA in the lines. The panoramic sunroof is an attractive feature and the styling of the rear, with its chevron like LED lights is especially pleasing.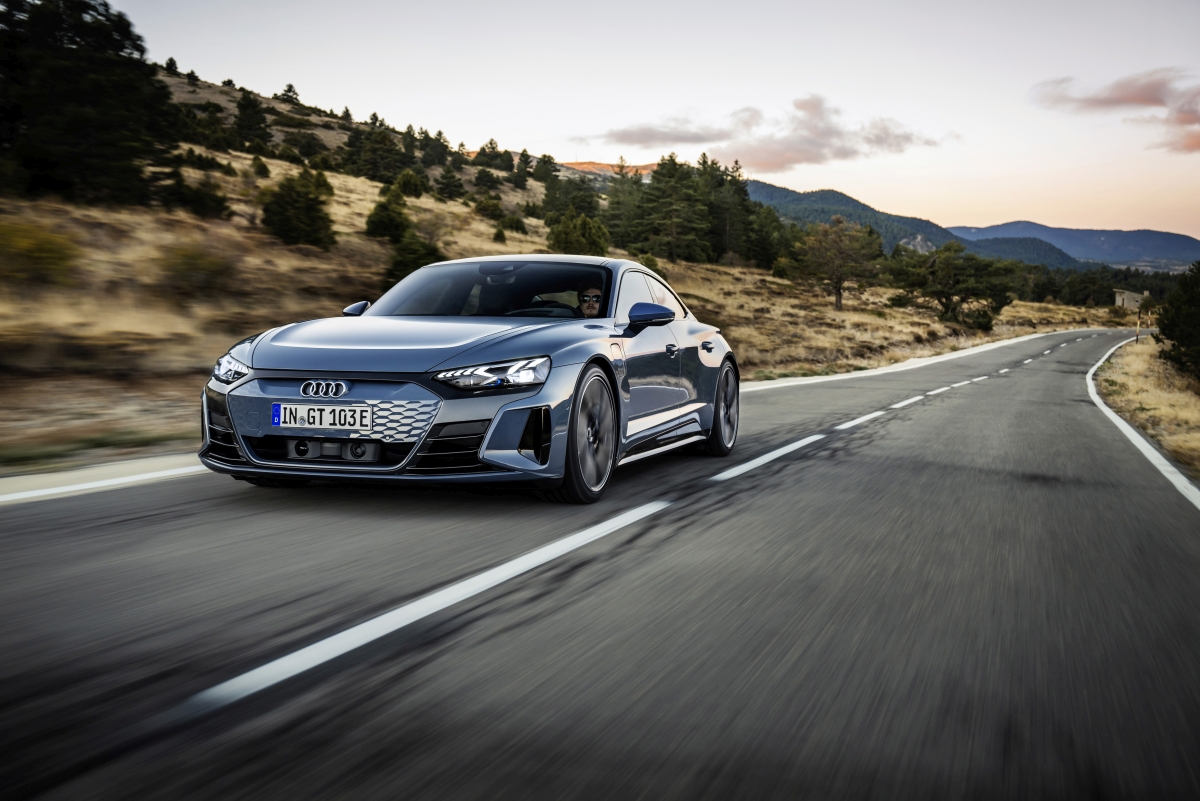 Interior
Sit inside the e-tron GT and you know you are in an Audi. It is stylish, classy and feels very functional. Everything is just right, it has all the technology you need in terms of touch screen displays, head up displays and connectivity, but retains some more tactile manual knobs for certain function. It is ultra comfortable with an excellent level of finish, although perhaps it lacks the wow factor that you may expect in an interior of a car of this price.


Behind the front seats it is surprisingly spacious, with plenty of leg room for two rear passengers and the ability to accommodate three if required. The boot offers a 405 litres of storage which is healthy for a car of this type and there is also more space upfront under the bonnet.


Performance
When you see the word Audi and GT together you would expect nothing less than exceptional performance and the e-tron GT does not disappoint. This is made all the more impressive when you note the fact that it weighs in at 2.2 tonnes on the road. The Quattro version is powerful enough delivering some 470 hp, which can be increased to 530 in boost mode. This means front and rear motors can take the car to 100km/h in a shade over 4 seconds. If you have the disposition and the budget, the RS version can deliver 645hp in boost mode. A nice feature is that rather than just the sound of road and wind noise, inside the Audi offers a unique engine-like acoustic sound which makes the performance even more satisfying.


The e-tron GT is equipped with 800-volt technology fast DC charging capability which can put 100km range on the clock in 5 minutes and go from a 5 to 80% charge in 22.5 minutes. However, these fast charging points are still a little rare in Ireland, so drivers may need to allow a little extra charging time. Range is quoted at a respectable 488km, although this will be very much dependent on driving style.


Reliability
Audi is a manufacturer that plays close attention to detail and has a reputation for very well put together vehicles and you would not expect the e-tron GT to be any different. It is also worth remembering that all-electric technology is not uncharted water for the German car maker. The first e-tron SUV concept was shown in 2015 and it has been producing electric vehicles since 2018. Since then the technology has been constantly refined to provide reliable, consistent performance.



Running Costs
If you are considering the purchase of an e-tron GT then running costs are unlikely to be a major consideration. However, it is worth noting the price does include a service plan. Also electric charging will offer a saving over fuel in the longer term.


Handling
Quattro has become a byword for exceptional handling and the e-tron GT lives up to this by delivering a truly agile and exhilarating drive for a car of its size. It has light but very precise steering and an advance torque vectoring system that distributes power to each wheel as needed. This means it offers excellent traction and stability, but not at the expense of a hard uncomfortable ride thanks to adaptive damping. Indeed the car is equally at home delivering an exciting drive in dynamic mode on a twisty road, as it is cruising on a highway in comfort mode.


Safety
Safety body Euro NCAP has yet to test the e-tron GT, but it is built on the same platform as the Porsche Taycan and this has achieved a five-star rating, so expect the Audi score to be similar. All of the normal Advanced Driver Assistance Systems are available, although some are optional extras rather than standard, such as adaptive cruise control and the Audi City Assist Pack. Lane departure warning, emergency braking and automatic Audi Connect emergency calling do comes as standard.


Summary
Exterior

100%
Interior

90%
Performance

100%
Reliability

100%
Running Costs

90%
Handling

100%
Safety

90%
Weighing in at €105,640 for the e-tron GT quattro and €144,180 for the RS version, this is not a car that will be in many people's budget range. However, this is not a normal car. In the e-tron GT, Audi has created a truly exceptional luxury sports coupe that stands out in its own right, let alone as a flagship electric model. Make no mistake you get an awful lot of car for the money, with stunning good looks, supercar performance, a surprisingly practical interior and an exhilarating drive, all wrapped up in a refined Audi package.