Overview
Mention the word Mustang to drivers of a certain age and they are likely to conjure up an image of a powerful classic American muscle car cruising down the highway in the sun. The Ford Mustang was a design icon of the 60's and 70's and even more recent incarnations have stayed true to the original image. Mustang is indeed a name that carries some weight in the motoring world and Ford has most recently used this to its advantage by applying it to its all electric mid-sized crossover-SUV.


The Mustang Mach-E is an important car in the development of the Ford Motor Company, representing its first dedicated all-electric platform vehicle. With its success so vital, Ford has given the car the added kudos of carrying the Mustang badge. But does the Mach-E live up to the Mustang's legendary status and how does it fare in the increasingly competitive electric crossover-SUV sector?


The Mustang Mach-E comes as a single-motor, rear-wheel-drive version or a dual motor all wheel-drive option. There is also the choice of a standard range (SR) 75.7kWh lithium-ion battery pack or the extended range (ER) 98.7kWh battery. There is also a limited-edition GT version which is only available as an extended range all wheel drive.


Pros
Spacious, comfortable and practical
Excellent performance
Makes good use of digital technology
A fun car to drive
5 star safety
Cons
Low speed drive a little harsh
Exterior
This is very much a crossover electric SUV and as such was always going to be a far cry from the iconic American sports car design. It has a few hints of retro Mustang styling, especially in the front end and rear light cluster styling. However, the overall exterior is very much in the crossover class, with a hint of coupe roof line. This aspect is quite clever as it give the effect of a steeper sloping back, but without sacrificing too much rear headroom.


At 4.7 metres long and 1.9 metres wide the Mach-E is quite a large vehicle, however its styling plays down this size. It has some quirky design features such as touch sensitive door handles, but overall looks-wise, whilst not unattractive, it is not really a head-turner. It is a design that probably looks best in bolder colours, rather than normal subtle blues and greys.


Interior
A big car means a big interior and the Mach-E can take 5 adults in comfort, or, those all important child seats. The slope of the back makes boot space a little less than its competitors at 402 litres but it also has a front "Funk" to add a little flexibility, which apparently can also be used a storage cooler.


The feel of the interior is relaxing and solid with everything required in easy reach. The highlight is a massive dash 15.5-inch portrait touchscreen control and infotainment system. This might seem like daunting digital technology at first, but it is surprisingly intuitive to use and the graphics and presentation are excellent. It even includes an enlightening feature which shows how the battery power is being used.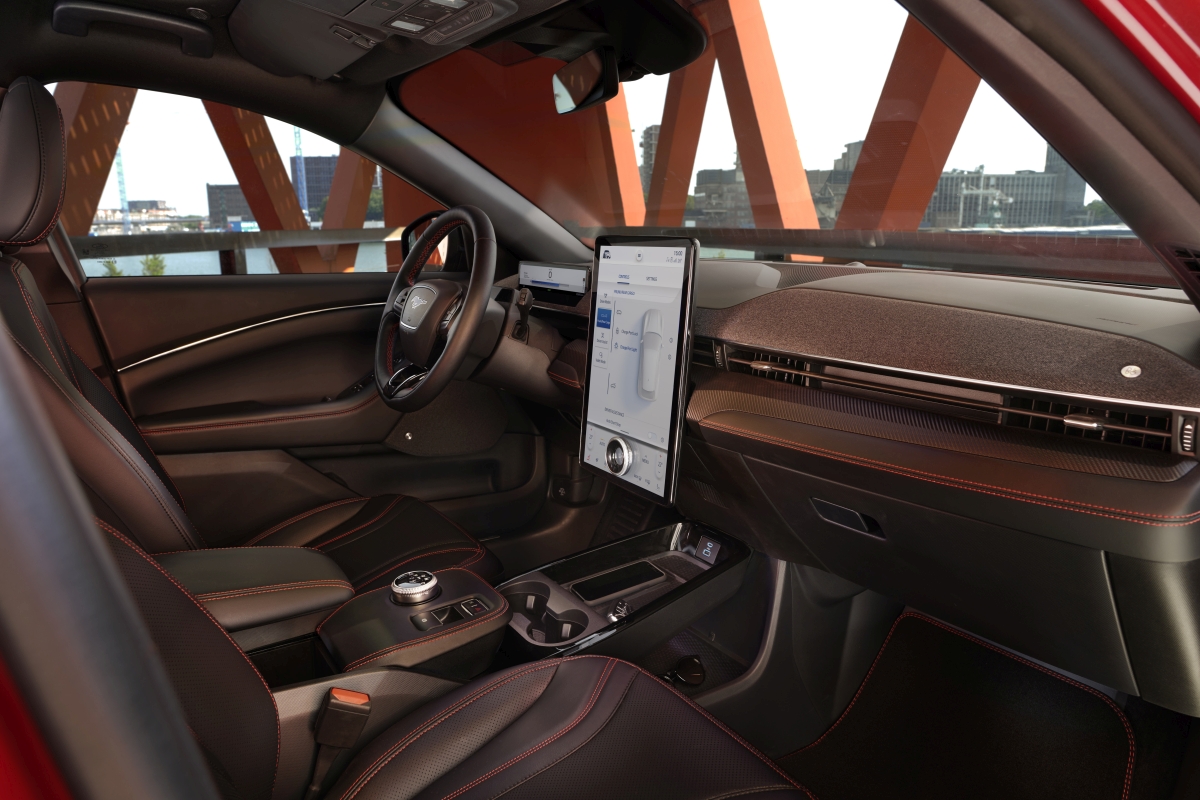 Performance
The bar is set high when it comes to electric crossover SUV performance and while the Mach-E might not take category gold, it could easily be on the podium. Depending on battery and single or dual motor drive, it produces between 269-351hp. This means the more powerful version can do 0-100km/h in just 5.1 seconds, or 3.7 seconds if your budget stretches to the GT version. Top speed is limited to 180km/h on most models.


Range wise the Ford say the Mach-E is capable of between 400-610 km, on a full charge depending on battery and transmission choice. The smaller battery has a peak DC charge rate of 115kW, but if you go for the extended range model you get rapid charging at up to 150kW, which means it can recharge 119 km of range in just 10 minutes at a high-power charging station.


Reliability
It is early days for the Mach-E, but the general feedback on reliability is positive. This is a very important vehicle for Ford and as such standards will be set high. The car comes with a standard 3 year, 100,000 km warranty, which can be extended to 5 or even eight years if required. For those who may have concerns over the battery, there is also the peace of mind of an eight year, 160,000 km warranty covering this as standard.


Running Costs
Ford calculations indicate that based on 20,000 km per year, a driver could save over €1000 when the cost of home charging is compared to fuelling an equivalent vehicle with diesel or petrol. While these figures are very subjective, it is fair to say that energy cost savings would be very significant with fuel prices currently so high in Ireland. Ford also states that over 5 years (or 96,000 km), the Mustang Mach-E could save up to 50% on scheduled servicing, compared to a combustion engine vehicle.


Handling
When it comes to chassis and steering, Ford has been delivering some very clever and refined packages on recent models and the Mach-E is no exception. This is a rewarding car to drive, with the electronically assisted steering offering just the right amount of road feel and the well tuned chassis giving a feeling of confidence and control, although managing to retain an appealing level of sporty fun. Body control in bends is excellent and while the ride is smooth for the passengers, the drive is very engaging for the person behind the wheel. The only slight criticism is that like many electric SUVs the ride is not so refined at low speeds.


Safety
Safety testing organisation, EuroNCAP, has assessed the Mustang Mach-E and awarded the car a top five-star rating. This reflects not only the impressive list of safety and driver assistance systems the car features, but also the high levels of driver and occupant protection it offers with a 92% adult protection score.


The Mach-E really does make the most of Advanced Driver Assistance Systems with some of the available safety features including; pre-collision assistance with automatic emergency braking, evasive steer assist, dynamic brake support, distance alert indication, blind spot warning and lane departure warning. Suffice to say this is a very safe car to drive.


Summary
Exterior

80%
Interior

90%
Performance

100%
Reliability

90%
Running Costs

90%
Handling

70%
Safety

100%
This is another very good cross-over electric SUV and with prices starting at €53,000 it represents good value when compared to some of its competitors, although if you do want one built to your own spec, delivery time could be well over six months. It is practical, economical, drives well and has all the technology you could wish for. However, by adding the Mustang badge you can't help feeling that Ford has set the expectation bar higher and that a car of this type was always going to struggle to live up to this. The Mach-E is very good at being a high calibre cross-over electric SUV, but perhaps not quite so good at being a Mustang.


It's fun in the corners, too, with a playful chassis and smartly controlled lean through the bends. It doesn't feel particularly like the V8-powered Mustang coupe, though, but then a vehicle with no combustion engine was always going to struggle to match the charisma of Ford's muscle machine.