Overview
Their green credentials are often a big part of the motivation for buyers choosing electric vehicles. However, with the most popular electric cars being large SUVs, how environmentally friendly these vehicles are is open to some question with their size meaning they leave a significant carbon footprint in terms of construction and non tailpipe emissions. To truly minimise environmental impact, an electric car needs to be small and this is something that Honda has taken on board with its e model.


Designed from the ground up to be a small electric city car, the Honda e could easily have fallen in to the functional but dull bracket. However, the Japanese designers clearly had other ideas and have created something that is uniquely stylish, practical, great to drive and, no matter how hard you try to avoid the term, it is very cute.
Pros
Looks great
Neat design features
Comfortable and well specified
Impressive city handling
Fast charging
Cons
Limited range
Costly for a super-mini
Exterior
If you are of an age to remember the original Honda Civic from the 1970's then The Honda e may have a certain familiarity about its look. It also draws its retro styling cues from other late 60's and early 70s Hondas, which actually drew a lot of influence from Italian design schools.


The designers have taken this clean and simple retro look and put it in an ultra modern package with the addition of some ground breaking features. For example, aerodynamic camera pods replace the wing mirrors and the front indicators and built into the headlight surrounds. The flush door handles pop out when activated and there is even a glass panel which covers the charging point.


Overall the exterior is sleek and elegant, with a very appealing combination of retro and cutting edge styling old and new.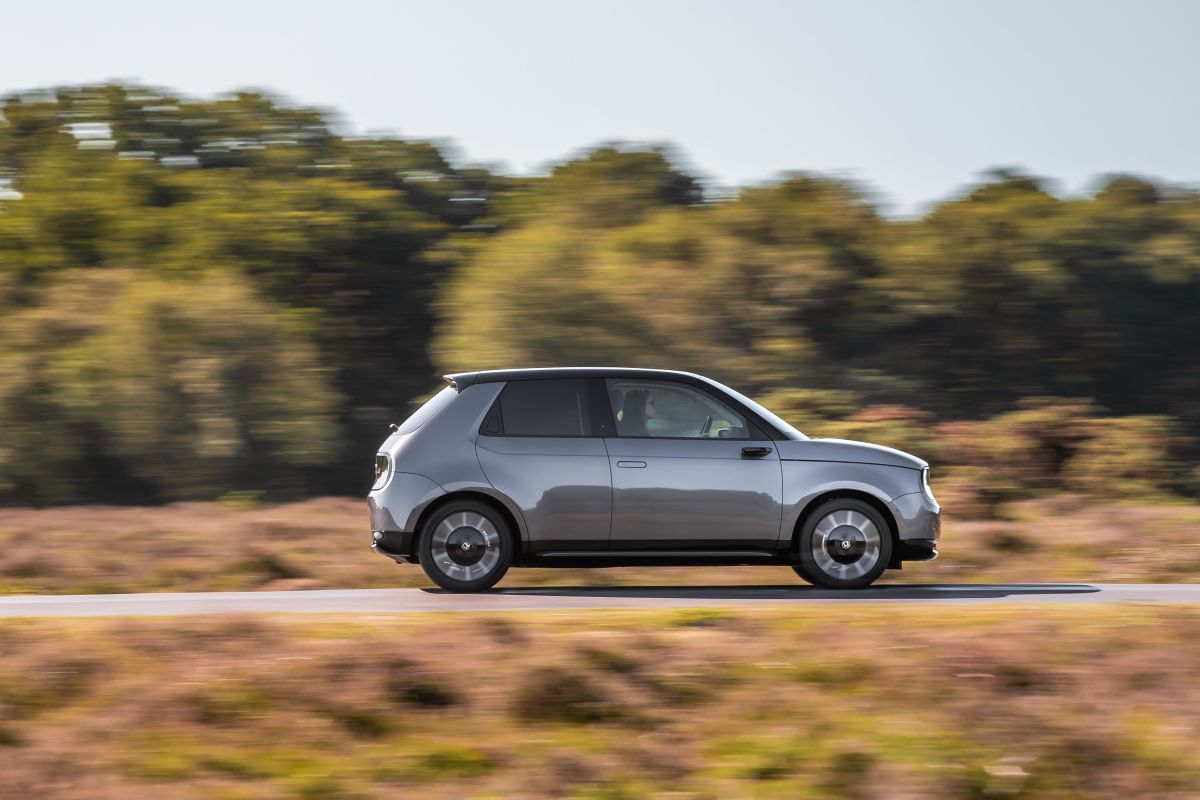 Interior
The design theme continues inside with a contemporary feel to the cabin, dominated, but not over powered by screens. The aim was a comfortable lounge feel to the interior and this has largely been achieved, with neat design touches and sympathetic use of materials.


Two six-inch displays screens at either end of the dash provide the wing mirror views, while there is also a driver's dash display and two 12.3-inch touchscreens that provide effective access to the infotainment functions and can even display a relaxing aquarium if required. It all connects easily to either Apple CarPlay or Android Auto and there are plenty of charging points and plugs. These include a USB port, a three-pin plug and a HDMI port which Honda says allows the e to be used a mobile office or games room.


Large windows and a sun roof mean an airy feel and for such a small car the rear interior space is very good. It is big enough for two adults, although long distances might be a little restrictive. The boot is, as you would expect, small.


Performance
If you make a regular trip across country, then the limited range of the Honda e means this is not the car for you. However, as an urban run around it could be just the ticket. Honda quotes a range of 220km on a full charge which is limited compared to other EVs. Indeed even this 220 figure may be a little optimistic in real world driving. However, this is not a car designed for the open road. It is quite capable of the occasional motorway run and offers the power and comfort to deliver, but this is a car targeted at urban or short run usage and if buyers know this then the lack of range is not really an issue.


The e uses a compact 35.5kWh lithium-ion battery and 100 or 113kw motor to power the rear wheels. This delivers up to 152 bhp with a 0-100 kph time of 8.3 seconds and a top speed of 160 kph. The upside of the smaller battery is that it is quicker to charge meaning 30 minutes at a fast charger will get it up to 80%.


Reliability
Honda generally does well in the reliability stakes and the limited feedback available in the digital world appears to indicate the Honda e follows this trend. Honda was relatively late to the electric vehicle party in development terms, so as a purpose designed EV you may expect some early issues with systems. However, with its intended limited range target market, these should be minimal. For peace of mind there is also an 8 year or 160,000km battery warranty.


Running Costs
As you would expect from a compact electric city car, the running costs of the Honda e will be minimal, although somewhat dependent on the means of charging. It is also worth pointing out that this is very much a car where driving style can have an influence on how far a charge will take you. The e has advanced energy recovery systems which mean that with a lighter touch on the accelerator, the careful driver can squeeze more range from the battery. Low tax and low maintenance costs make this a very attractive package in terms of running costs.


Handling
With the battery placed in the middle of the car and the wheels effectively at each corner, the Honda e has even weight distribution meaning it is designed to ride and handle well. Added to this the car has an excellent suspension set-up and an ultra tight turning circle. It feels very balanced and solid, despite its size, and the rear wheel drive makes it highly agile and delivers great manoeuvrability.


Both the steering and pedals also feel more engaging than many electric cars and with this feeling of feedback, combined with instant-torque the Honda e is very enjoyable to drive.


Safety
The advanced safety features of the e depend on the spec chosen with the Honda e Advance offering more features than the standard models for a slightly higher price. Both come with a suite of advanced safety systems under the Honda SENSING banner. These include; collision mitigation brake, road departure warning, traffic sign recognition, park assist, lane keeping assist and adaptive cruise control.


When it comes to crash testing, Euro NCAP gave the e a 4 out of 5 star rating in a recent test. It is not the top score that many buyers have come to expected, but it is still a very commendable performance for a car of this size.


Summary
Exterior

90%
Interior

80%
Performance

80%
Reliability

100%
Running Costs

100%
Handling

100%
Safety

80%
Drawing conclusions about the Honda e are difficult because it is in something of a class of its own in terms of electric city cars with no direct rivals to benchmark against. It is certainly an attractive small car and has a comfortable and well specified interior. Handling is exceptional and although the range is disappointing, this is a car firmly aimed at short run usage.


The Honda e is very different, quite charming and enjoyable to drive. However, if you are expecting to pay a low city run around price for the e, think again. The standard e will set you back €29,995 with allowances, while the more practical Honda e Advance is €32,995. At these prices buyers can clearly get more car for their money with other models, but will these other models be able to tug at the heart strings the way the cute little Honda e can?