Overview
With the EV6, Kia has taken a bold step into the premium electric vehicle sector, where it will go head-to-head with the likes of the Tesla Model 3, Volkswagen ID.4 and Mustang Mach-e. The EV6 is Kia's first purpose designed battery electric model, a Crossover based on the Electric Global Modular Platform, which it shares with the Hyundai Ioniq 5. However, Kia has very much put its own stamp on the design, with distinctive lines, lots of impressive technology and advanced safety features.


In Ireland it currently comes in two versions, the Earth and the GT-line. Both are rear wheel drive and feature a 77.4 kWh battery pack, and a 168 kW electric motor and heat pump.


Kia is riding something of a wave of success when it comes to model introductions, but does the EV6 have what it takes to continue this in the very competitive premium EV sector?
Pros
Striking exterior design
Comfortable interior
Advanced features
Sporty, agile drive
Impressive range
Cons
Outside of many buyer budgets
Exterior
Kia styling has been totally transformed in recent years and the EV6 takes this to an exciting new level. The car has as a sleek front and flowing lines towards a distinctive rear end light configuration. Yes, the styling is quite radical, but you get the impression it will go on to be more contemporary classic than fashion faux pas. The design is complemented by 19 or 20 inch alloys, depending on the model, and the EV6 also looks much larger in the flesh than it does in pictures, meaning it has plenty of road presence.
Interior
The EV6 interior has a thoughtful design that puts pretty much everything required at the driver's finger tips. The dash features two 12.3-inch displays, one for the driver and another alongside for the touchscreen infotainment system, offering all the digital connectivity you would expect of a premium vehicle. The GT Line also has an augmented reality head-up display.


The front seats can fold flat if required and the rear seats also recline. It has excellent rear legroom and can comfortably accommodate three adults. There are plenty of useful storage spaces around the cabin and a spacious boot. There is also storage under the bonnet which is ideal for electric leads.
Performance
The EV6 offers sport, normal and eco driving modes. The electric motors can transfer up to 229 bhp to the rear wheels making it feel powerful. The official acceleration figure is 0-100km/h in 7.3 seconds, but like most premium electric cars, the torque makes it feel faster.


Overall the EV6 is excellent to drive, but when it comes to EV performance the other key issues are range and charging speed. Here the EV6 also delivers with Kia saying the 77.4kWH battery has an impressive range of up 528km, enough to stay anxiety free on most Irish journeys.


The advanced 800V electrical system means it can accept a 350kW superfast charge, taking the battery from 10% to 80% in as little as 18 minutes. The drawback here is that the number of charging stations in Ireland that can deliver such a charge are limited. Most EV6 drivers will probably use home wallboxes and this will take around seven hours to deliver similar results, while more common public 50KW chargers would take around an hour.
Reliability
Being a brand new car on the market, reliability isn't something we can wax entirely lyrical about, but Kia have an excellent record overall on this front. Add to that their famous 7 year warranty on all new vehicles and we have no worries for the future reliability of the EV6.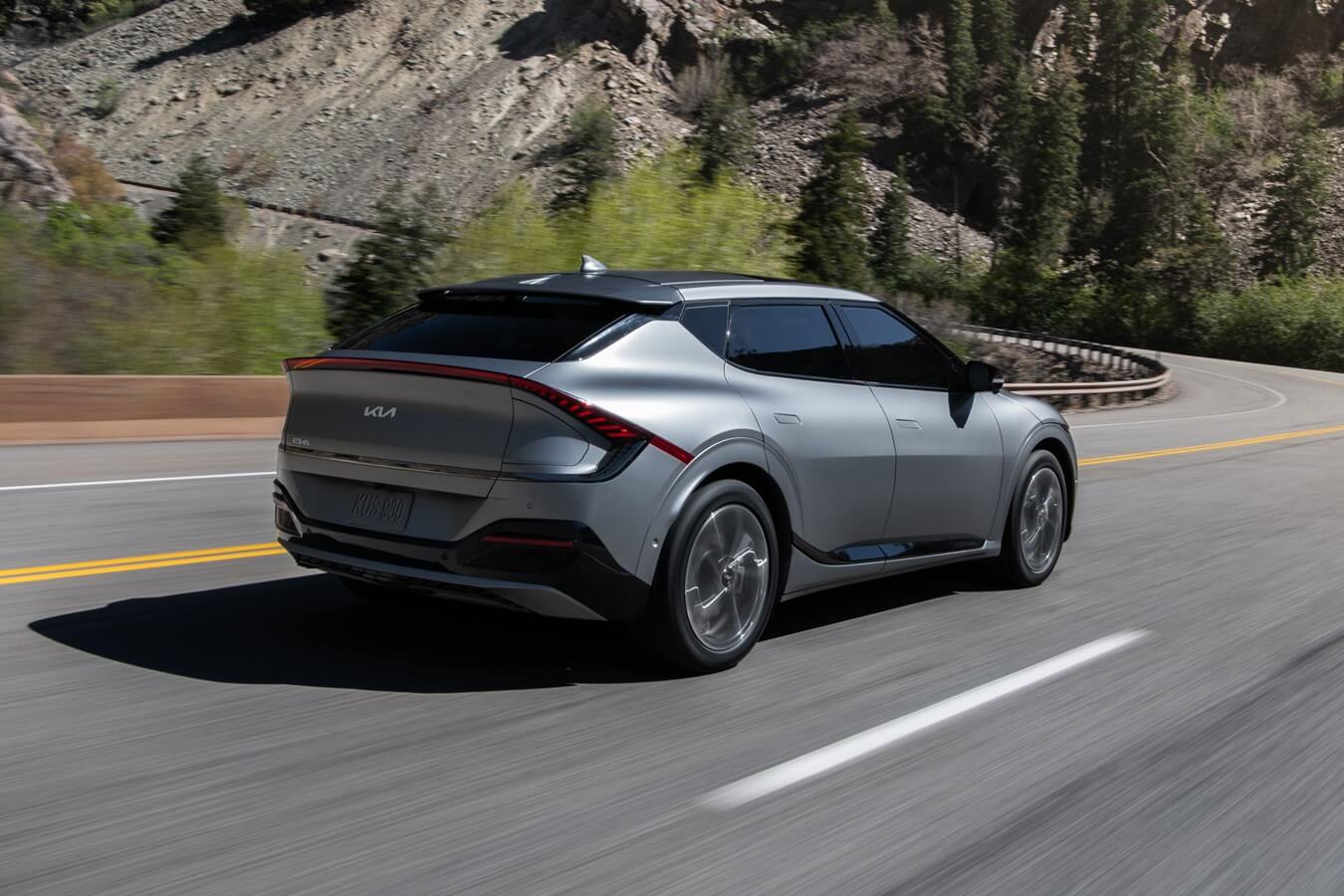 Running Costs
Annual road tax on the EV6 is €120 and energy costs will be very much dependent on how charging takes place. There will be an energy cost saving over petrol or diesel and with minimal servicing required, the EV6 will not be an expensive vehicle to keep on the road, despite its premium status.


Handling
With battery weight spread under the floor, the EV6 has a low centre of gravity. This combines with an innovative suspension design to deliver a responsive, agile and sporty drive. Kia has something of a "fun-to-drive" philosophy and the EV6 does not disappoint.


Safety
The EV6 has not been tested by EuroNcap as yet, but with a recent 5 star performance from the Kia Sorento and an array of Advanced Driver Assistance Systems (ADAS), top marks are on the cards. ADAS can make a very real difference when it comes to accident avoidance and the EV6 has forward collision avoidance assist, lane keep assist, rear cross traffic avoidance, blind spot collision avoidance and remote smart parking. It also has intelligent front lighting and one of the most impressive rear parking cameras of any vehicle.


Summary
Exterior

100%
Interior

100%
Performance

80%
Reliability

90%
Running Costs

100%
Handling

100%
Safety

100%
With the EV6, Kia has pulled off the feat of producing a very attractive electric vehicle that performs and handles like a driver's car. It is a high specification model that is spacious, comfortable and packed with technology, with excellent on the road performance combined with impressive range and fast charging capacity.


Starting at upwards of €50,000 including grants, the EV6 will only fall into a limited number of potential buyer budgets, but make no mistake, this is a true premium EV that, early orders show, is going to make a very big impact.