Overview
Porsche ownership tends to be more an aspiration than practical reality for most car buyers. However, when it comes to all-electric vehicles the situation may be starting to look a little different. Premium electric models from many manufacturers can easily attract price tags in the hundred thousand euro zone and with its latest version of the Taycan, Porsche has effectively joined the competition. It is the German manufacturer's most affordable EV yet and the high performance saloon also has an air of practicality that Porsche's sportier models cannot claim.


The compromise is a move from dual electric motor, all-wheel drive, to single motor, rear-wheel drive. So has the entry level Taycan managed to maintain the Porsche kudos in a more practical package, or has the tamer Taycan lost its edge?


Pros
Looks great
Exceptional handling
Plenty of power
Ultra quite and comfortable
Porsche appeal
Cons
Premium prices, especially with extras
Limited rear space
Exterior
The RWD Taycan is unmistakably Porsche, with shades of the iconic 911 design in a more elongated version. The Taycan manages to squeeze four door practicality into the classic sports car shape and produce a car that looks good from all angles, although it is worth pointing out that using the online configurator gives you a real insight into how choice of colour, trim and alloys can take a Taycan from conservative to stunning at the click of a mouse, which could prove expensive if you were doing it for real.


Although this is effectively the entry version Taycan, Porsche has also gone out of its way to keep it as much as possible like the more expensive Taycan 4S. Only the very keen eyed would be able to spot the difference in a line-up, with trim, bumper and caliper differences being the main differentiating factors.


From the outside the Taycan very much has the Porsche DNA. It is clearly recognisable as a Porsche model and because of only subtle styling differences it does not stand out as the lower spec version.
Interior
Similar to the outside, the RWD Taycan pretty much mirrors its 4WD sibling inside. The centre piece is the 16.8-inch curved display, with up to five different and freely configurable views and featuring Porsche Connect with Apple CarPlay for a complete suite of entertainment, information and navigation packages. There are 4 USB-C connectivity and charge ports and wireless phone charging in centre console storage compartment.


The upfront seating is very comfortable and the driving position has a Porsche feel to it. The rear seats are not exactly designed for long distance six foot plus passengers, but are spacious enough for occasional use and have ISOFIX mounting for child seats. The seats also come with partial leather as standard, with the novel option of upgrading to a leather free interior at a price.


A 366-litres boot is not huge, but is practical by most Porsche standards and there is an additional 81 litre space under the bonnet. Overall the interior scores high on quality and is not overloaded with unnecessary gadgetry.


Performance
Performance and handling are the acid test for any Porsche model and with reduced power from the single electric motor you may expect the rear wheel drive Taycan to disappoint in this area. However, this Taycan still packs a more than impressive punch that produces plenty of power for its slightly lighter frame. Performance depends on the battery option with the standard Performance Battery producing 321hp and the Performance Battery Plus 375hp. There is also a time limited overboost capability which increases power to 402 and 469hp respectively. This allows a theoretical top speed of 230km/h and a 0-100km acceleration of 5.4 seconds. Porsche has thus achieved the trick of producing Porsche petrol performance from a single electric motor.


Of course, as with any electric car, range and charging are also key performance factors. This Taycan actually offers the best Porsche EV range of any model. Porsche claims a combined (WLTP) range of 371 to 444 km for the Performance Battery and 431 to 505 km for the Performance Battery Plus. You would probably have to be driving in a style alien to most Porsche drivers to achieve the higher figures, but even at the lower level, real world driving end the range is adequate for the type of use it is likely to receive, although not outstanding.


With the electrical system of the Taycan based on high-powered 800-volt architecture, it is capable of making use of the fastest charging points. At best, this means a charging time from a maximum DC power charger of 5 to 80% charge in just 22.5 minutes. A more standard 50kW DC public charger would provide 100km of range in a little under 30 minutes.


You get the feeling that potential buyers will be more interested in horse power than charging times and range, although the Taycan is more than respectable in both.


Reliability
It is still early days for the Taycan in either its RWD or 4WD versions. Because it is new technology you might expect there to be a few issues to iron out. However, this is also a very important car in terms of the company development, so you would also think the German car maker has left little to chance. If you do have issues with the Taycan it will effectively mean the car has to go back to the Dublin Porsche centre no matter where you are. The Taycan comes with a three year warranty and an 8 year battery warranty.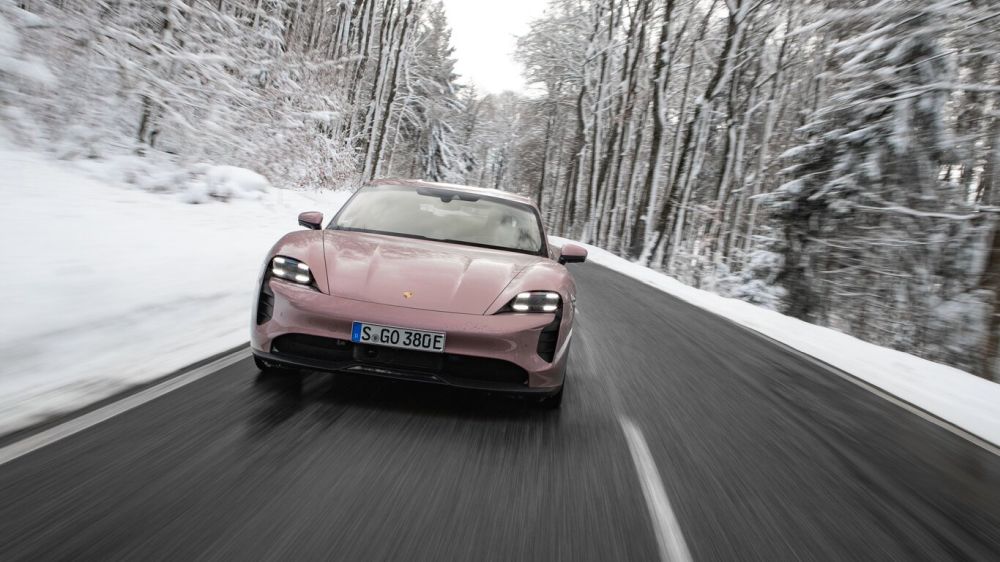 Running Costs
One of the advantages of electric is that the car has low running costs in terms of energy consumption no matter what the name on the badge. This will make the Taycan economical in Porsche terms. However, new buyers might find that servicing costs and replacement parts are a little higher than other marques. The Taycan needs to be serviced every two years or 20,000 miles, but again, the benefits of electric, means minimal parts replacement.


Handling
Being powered by an electric motor does not take anything away from the driving experience in the Taycan. This is a true rear-wheel drive sports saloon and the fact that it carries the Porsche badge also means that it is a very good one.


The steering is precise with good feedback and there is a very innovative regenerative braking system that achieves the neat trick of doing 90% of the braking without the pads actually touching the discs, but still feeling perfectly normal to the drivers.


The Taycan corners exceptionally, has superb grip and traction and perfect weight distribution for a car of its baulk. It might not offer the back road adherence of the 4WD version but, arguably, the RWD set-up is even more engaging, even to the point of offering a little 911 like rear end twitchiness.


This is great as a driver's car, but passenger too will also appreciate the smooth ride and the splendid isolation and quietness of the cabin.


Safety
The Taycan has a 5 star Euro NCAP safety rating with especially commended adult and child occupant protection. It also comes with an extensive array of Advanced Driver Assistance System safety technology. This includes; Lane Keeping Assist, Traffic Sign Recognition, Cruise control including adaptive speed limiter, Collision and brake assist and ParkAssist (front and rear) with visual and audible warnings.


Summary
Exterior

90%
Interior

80%
Performance

90%
Reliability

90%
Running Costs

70%
Handling

100%
Safety

100%
At € 94,197 for a Taycan with the Performance Battery and € 99,622 for the Performance Battery Plus, this is a considerable investment. However, despite the single motor set-up you are still getting an awful lot of car for your money. It has all the Porsche precision and performance you would expect, drives pretty much like its sporty petrol counterparts, but also offers a degree of four door practicality and range that will make it a very desirable premium family car option, complete with the Porsche badge.


The relative affordability of the Taycan can be brought in to question by a range of options that could quickly take the final price tag from sub 100k to closer to one fifty. However, even in its most basic version, this is a very formidable car and one that could make the transformation from petrol power to pure electric very enjoyable for many drivers.