Overview
One car that has slipped into the Irish market with huge success this year, but has also largely gone under the radar, is the BYD Atto 3. Only introduced in March it had sold 447 units as of the end of September, helping BYD go from zero to a sales ranking above established brands such as Polestar, Honda, Jaguar and Jeep in only 7 months.

As an unfamiliar name, it is easy to see the company as an outlier in a busy marketplace. However, when you delve a little deeper, you soon realise this company is a serious player. In fact the Chinese Group is the largest EV manufacturer in the world, by sales, with 1.9 million units manufactured in 2022. Tesla made 1.3 million in the same year and the mainstream car makers each made less than a million.

Established in 1995, BYD, which stands for 'Build Your Dreams', is a high tech company focusing on the automotive, electronics, renewable energy and rail, offering zero emission, socially responsible, solutions. In Ireland, to establish a dealer network and a foot hold in the market, it has partnered with Motor Distributors Ltd who also distribute Mercedes.

The BYD Atto 3 is responsible for 447 of the company's 455 sales in Ireland this year. So with a growth rate that could soon put BYD near the top of Irish EV sales charts, is the model one that buyers should be seriously looking at?
Pros
Running Costs
5 star safety rating
Exterior
The Atto 3 is an all electric compact cross over. The chances are you have seen one on the road and not fully recognised it, as the model has something of a generic exterior look. You could easily mistake it for perhaps a Hyundai, Kia, MG or Nissan of a similar size. It looks substantial and practical, but is not going to turn heads.

Styling wise the outside of the Atto 3 is neat and perfectly acceptable. It comes with 18 inch alloys and LED headlights to give a hint of sportiness and is available in a limited range of 5 colours. This is certainly not a statement car from the outside, which is perhaps exactly what BYD want it to be. Blending in with the pack seems to be making, what is a new manufacturer to Ireland, easier to accept and the BYD designers will have plenty of time to make a statement once the brand is well
established.
Interior
Inside the ATTO 3 the design is a lot more expressive. BYD describe it as playful and that is not a bad description, as there is plenty going on, although some of the quirks might not be to every one's taste. For example, the door panel design is inspired by a guitar, complete with strings, while ambient lighting can change colour according to the mood music.

There are electrically adjustable and heated front, vegan leather sports seats and a wide centre consul with storage, wireless charging and an aircraft inspired gear shift. It all feels very well put together and quite spacious, perhaps as the panoramic sun roof floods the cabin with light.

The Infotainment system is accessed via a large dash mounted screen with size dependent on spec chosen. Interestingly, BYD does not offer a huge range of options and upgrades like most car makers, but just 3 different specification levels with only a small price difference from €39,078 to €40,949.

The screen can rotate from a landscape to portrait view if required, although the actual benefits of this are hard to see. Pretty much everything has to be done through the screen and the lack of tactile buttons will be a disappointment to some.

Rear legroom is very good, aided by the flat floor and at 440 litres luggage space in the back is as good, if not better, than its competitors.

All in all, the interior of the Atto 3 is very comfortable and gives the impression of quality. The only question mark is whether the somewhat quirky design features will stand the test of time.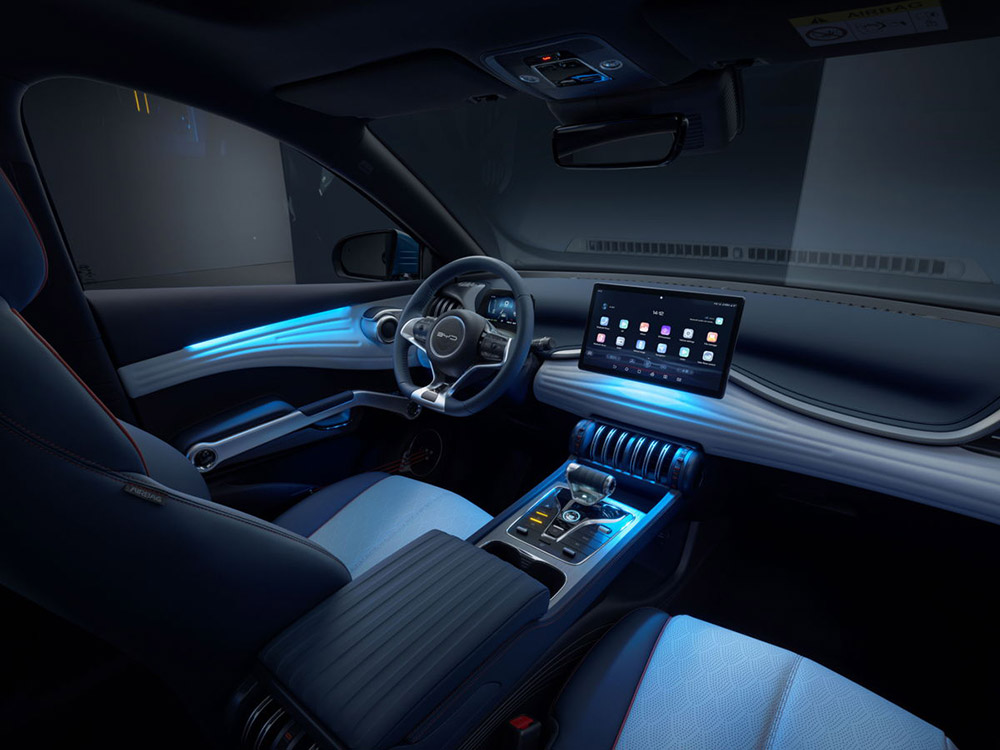 Performance
As you might expect performance wise the Atto 3 fits in with its competitors but does not stand out from the crowd. It is a front wheel drive with a 204 hp motor delivering a top speed of 160 km/h and 0-100 km/h in 7.3 seconds, all pretty standard for a car of this type.

When it comes to range, it fits neatly into the pack with the likes of the Hyundai Kona and Kia Niro EVs at 420 km. The only difference is that the Atto has a blade battery that is actually made by BYD. This is a cobalt free battery and as this is one of rarest elements in normal EV battery design, you could say that BYD is ahead of the game when it comes to battery development.

That said charging is pretty much in line with what you would expect. AC charge 7kW single phase home charging is 100% in 9 hrs 42 mins, while similar 3 phase is 6 hrs 30 mins. DC charging (150kW charger) is 80 minutes from 0-100%. If this seems longer than most, it is worth noting that many manufacturers quote figures for an 80% charge.

The 420 km range does seem to be more real world realistic than some figures that car makers quote, but over all, again, in terms of performance, range and charging, the Atto 3 is pretty standard for its class.
Reliability
As a new car on the Irish market, it is too early to draw any firm conclusions about the reliability of the Atto 3. However, you do not become the number 1 EV maker in the world by producing cars which are prone to fail, so you can expect the Atto 3 to be a good consistent performer over many years. It is also reassuring that BYD has partnered with Motor Distributors, one of the longest established and most respected car importers in Ireland. They have done this with the full intention of establishing a nationwide dealer network and this will make life easier for BYD owners when they do require a service or repair. The company also offers a breakdown service in partnership with the AA.
Running Costs
Like its competitors this is a low tax car which should provide very significant savings over a petrol equivalent if the owner is sensible about charging choice. There is a comprehensive warranty package which includes a 6-year vehicle warranty, 8-year battery warranty, and a 12-year Anti-Corrosion warranty. The ATTO 3 also benefits from a two-year service plan offering free of charge replacement of tyres, front brake pads and wiper blades should they need it.
Handling
By this stage you can probably guess that handling wise, the Atto is comfortable and competent rather spectacular and exciting. The ride is smooth and the car feels very solid on the road. The steering is well balanced, although you do feel a little unconnected.

The suspension is a little soft, which is good for low speed bumpy roads, but allows a little too much roll in higher speed cornering.

If you are looking for sporty and exciting, then the Atto 3 is not for you. It aims to be practical and functional and on the road it is just that.
Safety
If you are still harbouring any misconceptions about Chinese car safety, BYD has put these to bed with a 5 Star safety rating for the Atto 3, plus a range of safety equipment as standard that would put some European car makers to shame.

Standard safety equipment across all options includes: Forward Collision Warning, Automatic Emergency Braking, Rear Collision Warning, Rear Cross Traffic Alerts and Rear Cross Traffic Brake, Lane Keep Assistance, Lane Change Assist, Emergency Lane Keep and more.

The Atto also performed well in EuroNCAP crash tests with a 91% score for adult occupant protection as part of a 5 star maximum rating.
Summary
Exterior

80%
Interior

80%
Performance

80%
Reliability

100%
Running Costs

100%
Handling

80%
Safety

100%
In terms of value and specification the Atto 3 compares well to its competitors without blowing them out of the water. It comes in 3 options, the Active, Comfort and Design. These weigh in at €39,078, €39,546 and €40,949 respectively and other car makers may take note that these prices include delivery. The main non cosmetic difference is that the Design version has an electric tailgate, bigger dash screen and different charging options.

This is a very well specified and well put together car. It may lack flair and excitement, but it is very practical, comfortable and competent and you get the feeling that this is exactly what BYD want it to be. Right now fitting in with the crowd and quietly building a customer base in Ireland makes perfect sense for the new Chinese entrant. It means the brand can gain acceptance with Irish car buyers before mounting a serious challenge with more models and perhaps more daring design.

Look back into the not too distant past and you can see how Korean brands Hyundai and Kia came in with a similar strategy and have gone on to be mainstream leaders. Expect BYD to follow a similar path, but more than likely much quicker.